Greetings from the Representative Director
Our company is headquartered in Rokugo, Misato Town, Akita, a town which was selected as one of the 100 Exquisite and Well-Conserved Waters, and we work in various areas mainly in the southern part of the prefecture. Besides, as tree doctors, we also perform examinations and treatments for cultural properties such as local natural treasures and trees in the gardens. We started developing landscaping businesses and lectures by tree doctors in Taiwan from 2019. We are very pleased and encouraged by the fact that our technology has been recognized by people from overseas.
The values of gardens have changed over time. Even today, as lifestyles change, the values of gardens are diversifying, and various things are required in the gardens.
For example, "a garden for viewing" where you can enjoy the four seasons, "a garden got enjoying" where you can enjoy BBQ with your family, and "a garden for dogs to run" where dogs can run around, etc. We believe that the combination of the customer's thoughts for the garden and our technology will complete a garden that will be loved for a long time. We would like to enjoy the garden with excitement with our customers from now on.
Japan's proud landscaping culture and technologies that attract attentions worldwide. We will do our best to share the beauty and charm of the landscaping culture and technologies over the country and the world from this beautiful land, Akita.
Takahashi Zoen Co., Ltd.
Representative Director    Makoto Fujioka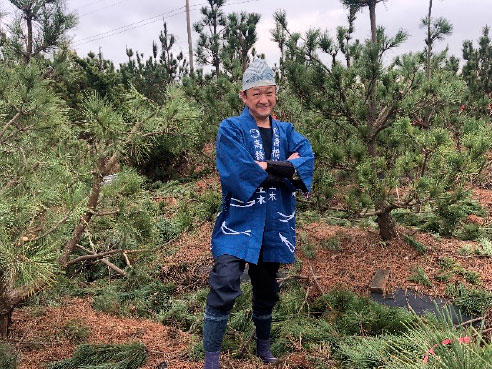 [Profile]
●Born on March 2, 1976 in Misato Town, Akita Prefecture (Formerly Rokugo Town)
●Graduated from Akita Prefectural Omagari Senior High School  High school diploma (General course)
●Graduated from Kyoto College of Art, Faculty of Art and Design  Department of landscape design
[Career]
●2000: Trained under Shuzo Ueno of Azabu Ueyuu Co.,Ltd. , one of Japan's leading landscape architects in Tokyo and learned the traditional technologies and techniques of Japanese gardens such as Japanese rock gardens, tea gardens, ancient gardens, etc.
●Returned home at the age of 26 and obtained a qualification as a tree doctor at the age of 27 which is the youngest at the time. He worked for Takahashi Zoen Co., Ltd. which is run by his father.
●As a tree doctor, he receives orders from government agencies for the protection, treatment, and maintenance of trees which are designated as cultural properties. He also treats trees in ordinary households.
●As a landscape architect, he pursues modern Japanese-style gardens while utilizing the traditional techniques and technologies of Japanese gardens that he learned in Kyoto and Tokyo.
●He is currently working as an advisor for the cultural property protection of the Board of Education in Akita Prefecture.
Besides, he is also working as an advisor for a cherry blossom restoration project at Iwadeyama Castle (Shiroyama Park), which is a famous cherry blossom spot in Osaki City, Miyagi Prefecture.
●2019: Landscaping technology was recognized and received an order for maintenance in Taiwan. Currently striving to expand Japanese gardens culture as a gardener. Looking for new business opportunities while receiving orders for maintenance.
●2019: Conducted a technical lecture on arboricultural skills in Taiwan. His arboricultural skills have been recognized by Taiwan's foremost tree doctor Jan Feng-chun. Since 2019, they have formed cooperative relationships, knowledge tie-ups, technology partnerships and holding joint workshops together.
●2021: Exported stone products such as Chokai stones and lanterns from Akita prefecture, which are representative Japanese garden stones to Taiwan.
Currently exhibiting in Taoyuan City.
[Qualifications]
●Tree doctor  Registration number No.1092
●First class Landscape technician
●First class Landscape construction management technician
●First class Civil engineering construction management technician
●Second class Plumbing construction management technician
●Pine protection officer
●Pine wood nematode professional researcher
●Street tree trimmer
◆ About Us
Company Name
Takahashi Zoen Co., Ltd.
Representative Director
Makoto Fujioka
Postal Code
019-1404
Headquarters Address
226-1, Kumano, Rokugo, Misato Town, Semboku, Akita
Phone Number
0187-84-2375
FAX
0187-84-0444
Homepage
http://www.tzd.jp
Capital
5,000,000 Yen
Business Area
Akita
Business Contents

Landscaping, Civil Engineering, Scaffolding Works,
Stone Works, Plumbing Works, Pavement,

Water Supply Facilities Construction
Establishment
Established in 1973  Changed to a limited company in 1990
License Number

Construction Work: Permitted by Akita Prefecture Governor (General-19) No.10454
Drainage Facility Construction Store designated by Misato Town

Qualifications

Tree Doctor (Certification No.1092)
Park Administrator
Pine Protection Officer
Pine Wood Nematode Professional Researcher
First Class Landscape Construction Management Technician
First Class Landscape Technician
Registered Landscape Construction Core Technician
Street Tree Trimmer
Planting Base Diagnostician
First Class Civil Engineering Construction Management Technician
Second Class Plumbing Construction Technician
Disintegration Works Management Technician

Second Class Exterior Planner
Affiliations

Japan Federation of Landscape Contractors
Japan Greenery Research and Development Center (Tree Doctor)
Omagari Semboku Landscaping Association
Omagari Greening and Environment Maintenance Landscaping Association

Drainage Facility Construction Store designated by Misato Town

Financial Institution
Hokuto Bank  Misato Branch
交通